Saturday, November 13, 2010
My culinary exploration of New York city took me this week to Chelsea, a neighborhood nestled between Greenwich Village and the Meat-Packing District to the south and Hell's Kitchen to the north. Historically home to artists both rising and falling, Chelsea is an eclectic area now experiencing some of the general upsurge that seems to be occurring citywide. In fact, today's New York Times says that a couple of new buildings going up in the area are going to house condos that will sell for well over $1 million each. Ouch.
Our destination was a medium-sized casual restaurant at the corner of 24th Street and Ninth Avenue, called Company, or "Co." to those more familiar. Known for pizzas, the pies here are not New York, Chicago or any other familiar style. The crusts have a slight sourdough flavor and a great balance of crispness on the bottom and a just-right sponginess once you bite into it.
The choices range from the leafy Popeye (spinach, gruyere, Pecorino, and mozzarella) to the Meatball (tomato, veal meatballs, caramelized onions, olives, Pecorino.) The simple Rosa has bright tomato sauce coating the crust, dotted with slices of fresh garlic and spiced with a little red chili and fresh oregano. The Leek & Sausage is more complex, with chili flakes, sausage pieces, leek and cheese cushioned with a layer of bechamel sauce that created a surprisingly light background flavor.
Each pizza has four generous slices - two slices a person seems like a decent portion. (My friends and I went ahead with a more encompassing sampling, each of us tasting six different pies - and none was leftover. We were doing research, after all.)
Of the pizzas we tried, my favorite was the vegetarian Popeye, though the Leek & Sausage was interesting, flavorful, and maybe a little quirky - in a good way.
Co. has six craft beers on tap and a modest but well rounded wine list. Interestingly, the wine list includes only wines with screw-tops - no corks. The cheerful server, Brenna, had great descriptions of each of the beers and was able to guide us skillfully through both the beverage and comestibles parts of our meal.
Dinner for two with a round of wine or beer runs between around $30-$50, depending on your selections.
Co. is located at 230 9th Ave; New York, NY 10001; www.co-pane.com or (212) 243-1105.

This item is cross-posted from Doug's other blog, http://wineandfoodworld.com.

Labels: bechamel, cheese, craft beers, gruyere, leeks, mozzarella, New York, pecorino, pizza, sausage, spinach, wood oven
Wednesday, November 10, 2010
Possible Chair of Energy Committee: God Promised There'd Be No Climate Change
Are you worried about global warming? Don't be! According to Illinois Rep.
John Shimkus
—candidate for chair of the House Energy and Commerce Committee—
climate change
isn't a big deal. How does he know? Because of the Bible!
Shimkus, a Republican who represents part of Springfield and some St. Louis suburbs, is seeking the chairmanship for the Energy and Commerce Committee. And good thing, too, because what's really missing in this whole terrible fake "debate" about climate change is sub-Sunday school Biblical literalism.
See, Shimkus' whole take on this "global warming" situation is informed by the part in the Bible when—after flooding the earth—God promises Noah he'll never again destroy the world. So, obviously, climate change won't do much harm to the planet. Because of God's promise. Do you follow? This is all in Genesis, people!
But that kind of scintillating logic isn't all Shimkus brings to the table—Progress Illinois illustrates his climate expertise:
During a discussion at a hearing about the Environmental Protection Agency's ruling that greenhouse gases threaten public health and the environment, Shimkus noted that carbon dioxide is a natural result of breathing and asked, "Does EPA propose we stop breathing?" (They do not.) At a dinner held by the Sangamon County Republicans in February, Shimkus suggested that the sight of farmers "ice-fishing on ponds in Southern Illinois" is the latest evidence that global warming is a "hoax." Oh, and let's not forget the time Shimkus expressed fear that curbing carbon emissions would "take away plant food." (Scientists disagree.)
Labels: Bible, climate change, environment, global warming, GOP, Noah, political interference, politics, science, science policy, Shimkus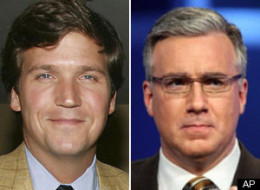 UPDATE: The text and headlines of this article have been changed to reflect Tucker Carlson's admission that he sent emails posing as Keith Olbermann.
Conservative pundit and Daily Caller editor Tucker Carlson perpetrated a hoax last weekend by posing as Keith Olbermann in a series of emails to a Philadelphia columnist.
On Tuesday afternoon, a set of emails surfaced on the Philadelphia news site Phawker. Phawker said that the emails showed the "100% for real" correspondence between Olbermann and Philadelphia Daily News columnist Stu Bykofsky over the weekend. In the emails, "Olbermann" talks about his boss, MSNBC President Phil Griffin, in hyperbolic, insulting terms.
In one email, "Olbermann" says that Griffin is "not my boss (thank god), nor is he intellectually qualified to be...I'll be anchoring on election night 2012, long after Phil Griffin has moved on to a job for which he's actually qualified, perhaps on QVC."
In another, "Olbermann" writes that "I could have Phil Griffin fired tomorrow if I felt like it, trust me. And if he keeps yapping about me in public, I may. For the moment, however, keeping Phil around is like having a drunk chimp in the office -- more amusing than threatening."
The incendiary emails seemed too good to be true -- and they were. They were sent from keith@keitholbermann.com. That's an address that is not owned by Olbermann, but by Carlson. In July, Carlson announced that he had purchased the domain name KeithOlbermann.com, and told Politico that people could email him at Keith@KeithOlbermann.com -- the same address that the emails to Bykofsky came from.
On Tuesday night, Yahoo's Michael Calderone reached Carlson by phone. Carlson confirmed that he had, in fact, sent the emails posing as Olbermann.
"Could you resist?" Carlson said. "It was just too funny. The flesh is weak."
Monday, November 8, 2010
From the U.S. Food and Drug Administration:
http://www.fda.gov/Safety/Recalls/ucm232988.htm">Cal-Maine Foods, Inc. Conducts Voluntary Egg Recall
Sun, 07 Nov 2010 19:23:00 -0600
JACKSON, Miss. (November 5, 2010) ? Cal-Maine Foods, Inc. (NASDAQ: CALM) today was notified by the Food & Drug Administration (FDA) that one of the Company's suppliers, Ohio Fresh Eggs, LLC, Croton, Ohio, had a routine environmental study sample which tested positive for Salmonella Enteritidis (SE). Cal-Maine purchased approximately 24,000 dozen unprocessed eggs from Ohio Fresh which were processed and re-packaged by the Company's Green Forest, Arkansas, facility between October 9 and 12, 2010, yet the Company was only notified today.
Products: Sunny Meadow, Springfield Grocer, Sun Valley, and James Farm eggs (http://www.fda.gov/Safety/Recalls/ucm232988.htm">see recall notice for specific dates and plant numbers)
Distributed: To food wholesalers and retailers in Arkansas, California, Illinois, Iowa, Kansas, Missouri, Oklahoma and Texas.
Why: Possible Salmonella
Illnesses reported: None
For more information: Contact Cal-Maine's corporate office at 1-866-276-6299 between 8:00 a.m. and 4:30 p.m. CDT